Creating a Branded Web Experience
We worked with Harvard Business School's Corporate Learning division to create a web presence that rejuvenates their brand and engages corporate leadership development professionals worldwide.
The Challenge
While recognized as an innovative leader in corporate learning and leadership development, HBPCL's online presence was stuck in the past. An internal brand refresh process pointed to the need for a new website that conveyed the dynamic, leading-edge nature of its offerings—while highlighting its unique "co-creation" approach to developing tailored learning experiences.
The HBPCL marketing team selected Raincastle to create a web experience that repositions the brand for today's global business landscape.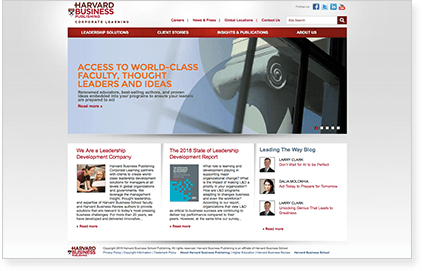 Old Website
New Website
Wireframe Development & Testing
To help ensure the new website provides a positive customer experience, we started with a comprehensive wireframe process. Our usability lead worked closely with the HBPCL team to define the website structure and individual elements on each page, leading to detailed wireframes. These were tested through a series of interviews with customers and prospects, enabling us to refine page elements based on customer insight, rather than guesswork.
Visual Design
A key objective was creating a distinctive visual brand for HBPCL, while adhering to Harvard Business Publishing graphic standards and preserving a visual connection to Harvard. Conceptually, we also needed to align with branding work provided by HBPCL. Working closely with the HBPCL team, we developed a visual design that is completely fresh, yet maintains a clear connection to its corporate parent.
Bespoke photography creates a light and fresh feeling to the new website pages, while conveying the dynamic nature of business and presenting people in a way that is culturally non-specific—crucial for global marketing. We selected brand-compliant colors that create a bright, vibrant palette.
We created a series of icons and stylized illustrations that give the site a fun and approachable personality while unifying the pages visually.
Content Writing
Leveraging the insights gained through the wireframe process, we created fresh copy for the main content areas of the site. We focused on streamlining copy to make it more approachable (and readable on mobile devices) while aligning with brand messaging.
We developed a new copy format for customer success stories that the client can emulate as new stories are developed in-house.
Animated Videos
Animated videos are a powerful way to engage and inform website visitors. We created two such videos to introduce viewers to HBPCL's unique advantages and its approach to co-creating learning experiences with customers. Through simple, clear graphics and narration, these brief videos convey how HBPCL delivers value to its customers in a way mere words on a page cannot.
Leveraging the visual language we created for the website, the animated videos provide an effective storytelling approach that conveys key messages in a fun, approachable format.
Result
The new HBPCL website brings their brand into the here and now, while providing an improved customer experience. The engagement was also a positive experience, emphasizing collaboration and "co-creation" at every step.